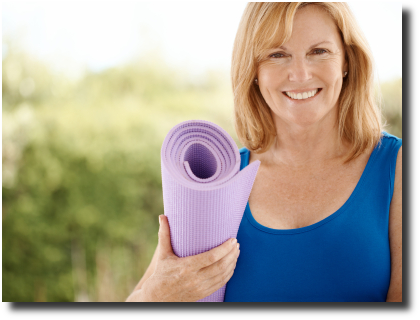 Exercise may be the last thing you feel like doing after breast cancer surgery. You're probably exhausted, your arm may be painful and swollen, and additional treatments can make you feel even worse. All you want to do is rest. In the past, that's exactly what doctor's recommended.
However, recent studies indicate a link between moderate physical exercise and improved quality of life for breast cancer survivors.
We are dedicated to promoting a healthy lifestyle and positive body image to all breast cancer survivors. Pink Ribbon Pilates will help stretch and strengthen the shoulder, chest, back, and abdominal muscles, allowing women to regain full range of motion to those areas affected by breast cancer surgery. This program is suitable whether your surgery was recent or several years ago and accommodates all fitness levels.
The benefits of Pink Ribbon Pilates
Reduces feelings of depression
Improves self confidence and control
Helps regain strength and mobility in affected shoulder and arm
Helps to control weight
Improves sleep
Alleviates fatigue
Improves energy levels
Decreases stress and tension
Enhances physical and mental well-being
Help you to integrate regular exercise into your life
Connect with other people on a similar journey to you
Allow you to laugh, relax and have fun
 Testimonials
When you are a big busted woman and have a major mastectomy you feel lopsided and know you need exercise to restore the balance. However, there is that old problem of feeling self-conscious; that prosthesis can have a mind of its own! To have somewhere to exercise, where everyone else is in the same boat, where the exercises are designed for your capabilities and constraints, where you wear what is comfortable for you and no one expects you to don lycra, where everyone encourages everyone else and it is all free; that's what is so great about Pink Ribbon Pilates.
From SG:
I have found immense value in this class, there are many reasons for this. Perhaps I should start with the fact that our teacher Jan could never be replaced. Not only knowledgable in Pilates, but she appears to constantly expand upon her vast knowledge of all manner of things associated with the condition all of us have (had).  Good people like her are precious and I can't thank her enough for sharing her class with me.
The class is formed from like minded woman from all walks of life and you are made to feel very welcome and are given so much encouragement, it's helped me on so many levels.  I missed a class the week before last and by Monday of this week my right arm felt as though it needed removing due to lymphodema. It is fine now!! We did exercises in class that were good for drainage and Jan was right!! My arm is as good as new and I have a new exercise I shall practise at home, which works very fast!!  I'm so relieved as it was rather painful.  I could go on and on stating all manner of reasons why this class has been so good for me, but I don't want to detract from the basic facts that when you attend a class run by someone who cares as passionately about the welfare of her individual students as Jan does, you are so very lucky,  I just hope this luck doesn't run out !!