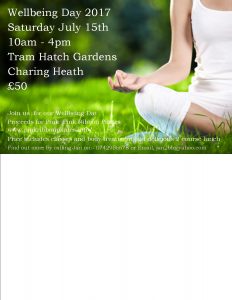 Our Wellbeing Day 2017 fundraiser was held on Saturday, July 15th at Tram Hatch Gardens, located near Charing, Kent.   All of us at Pink Ribbon Pilates offer a deep and heartfelt thank you to those who participated with a giving spirit, that made our 2017 Wellbeing Day a huge success!    
Here is  a 2017 comment: 
The Wellbeing Day was wonderful.  Chris and I both thoroughly enjoyed it.   I honestly can't think of anything to criticise or recommend – I thought the programme was balanced, great fun and well organised.  The surroundings were spectacular and the catering absolutely delicious.  Congratulations on a first class event.  We enjoyed every moment of it!
Pink Ribbon Pilates are privileged to be supported by a number of individuals and organisations.  We are also profoundly grateful to everyone as every gesture and donation makes a real difference and enables us to continue.